Obituary
Jack Davis Durant
Raleigh, North Carolina
Age 91.
Died 01/02/2022.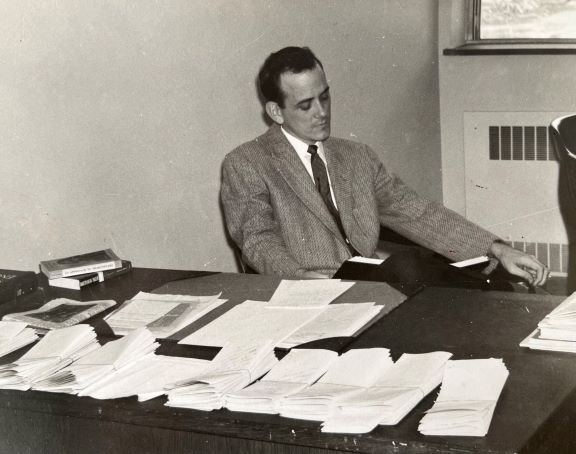 Jack Davis Durant, 91, of Raleigh, died on Sunday evening, January 2, 2022. He was born in
Birmingham, Alabama, on September 7, 1930, to Kyle Hobson and Benalie Davis Durant.
Throughout his life Jack spoke fondly of his childhood in Birmingham, where he loved school,
choral singing—he was a member of a Birmingham boy's choir that performed in such places as
New Orleans, DC and Pittsburgh—and where he developed an early interest in classical music.
By all accounts, Jack enjoyed a happy childhood in Birmingham, adventuring on his bicycle with
neighborhood children and visiting relatives in rural Alabama. Among his fondest memories was
a summer spent in the gulf coast town of Biloxi, MS. Jack's family summered there in hopes of
relieving his childhood asthma. In Biloxi he swam, fished, and walked with friends on the pier
where music buskers frequently performed—a magical time for him that much improved his
asthma.

A top student at Birmingham's Ensley High School, Jack developed a keen interest in chemistry
and began college as a chemistry major at Auburn University. Soon after, however, he realized
his deepest passion lay in English literature. He transferred to Maryville College and graduated
with a BA in English in 1953. Afterwards, in 1955, he obtained a Master of Arts degree in
English from the University of Tennessee. This led to an English instructorship at Maryville
College and later at Presbyterian College in Clinton, South Carolina. Before returning to the
University of Tennessee to study for his PhD, Jack spent several years in the Army. Stationed in
peacetime Germany, he was afforded ample opportunity to explore Europe, especially Great
Britain, land of the authors he most admired.

Upon his return to the States, Jack began courting Judy Bernice Johnson, a smart, plucky,
no-nonsense young woman of Memphis, also a graduate of Maryville College. Judy shared
Jack's progressive political views, as well as his humor and wit. They were married in 1958,
after which he returned to UT for his PhD in English, which was awarded him in 1963.
Jack served as assistant and associate professor of English at Auburn University from 1963 to
1971. He loved Auburn and cherished the friendships forged with professional colleagues there.
In 1971, however, Jack took the opportunity to join the English faculty of North Carolina State
University. He moved his family to Raleigh where he became a full professor in 1974. Jack
specialized in eighteenth-century British literature, particularly the drama of the Restoration.
This led to his publishing two books on the late-eighteenth-century playwright and politician
Richard Brinsley Sheridan, as well as numerous articles on other eighteenth-century writers.
During this time, Jack took up duties as associate director of graduate studies and continued in
this post until 1981 when he became assistant head of the Department, under Professor Larry
S. Champion, and later associate head of the Department, under Professor John Bassett.
In 1989 Jack left departmental administration in order to spend more time in his role as
classroom teacher. He retired from NC State in 1997.

Jack regularly attended the North Carolina Symphony, and loved live performances from The
Metropolitan Opera in New York City. He ran in the first Great Raleigh Road Race and for a brief
time, biked to work. He enjoyed listening to his record collection of opera and classical music in
his study. He loved to swim in the ocean on family beach trips and particularly to float on his
back over the drifting waves. He was an active member of St. Michael's Episcopal Church
where he sang for many years in the choir.

Though as a young man Jack entertained the idea of becoming a Presbyterian minister, it was
out of the tragic death of his oldest daughter in 1967 that he, over many years of searching,
found himself on a spiritual journey to the Episcopal diaconate in his retirement from the English
department. In the spring of 1995, Jack was ordained as a vocational deacon. He served at the
Church of the Nativity, then a mission church of St. Michael's Episcopal Church, both in Raleigh,
for several years and later served as a deacon at St. Michael's Episcopal Church. His devoted
ministry was to the homebound and elderly members of both parishes. He was their friend and
advocate who made them feel seen, loved, and not forgotten. As deacon he was beloved for his
grace, sharp wit and gentle kindness. His sermons are remembered by many.

Eventually Jack moved to Springmoor Lifecare Community until difficulties, which were
compounded by the pandemic, led him to move to Waltonwood Lake Boone. In these years he
had many wonderful caregivers to whom his family is most grateful.
Jack is predeceased by his parents, his wife Judy, his sister Sarah Jean Stephens, and his
eldest daughter, Mary Matherly Durant.

He is survived by his daughter, Sarah Durant Esser, and her husband, Rand, of Raleigh; his
daughter, Amanda Durant, and her husband, Robert Slifkin, of New York City; three
grandchildren, Emma and Elizabeth Esser, and Amos Slifkin; and many extended family
members.

A memorial service will be held on March 11, 2022, at 2 pm at St. Michael's Episcopal Church in
Raleigh. A private interment is being held at the St. Michael's memorial garden at an earlier
date. In lieu of flowers, memorial donations may be made to the outreach programs of St.
Michael's Episcopal Church, the Student Emergency Fund at NCSU https://give.ncsu.edu/dasa
or the Helping Hand Mission in Raleigh.
For additional information or for service details, please reach out to the family directly.
You can share this obituary using the following address, or click the button below to share on Facebook.