Obituary
Michael "Smoothie" Douglas Horton
Cary, North Carolina
Age 52.
Died 03/29/2022.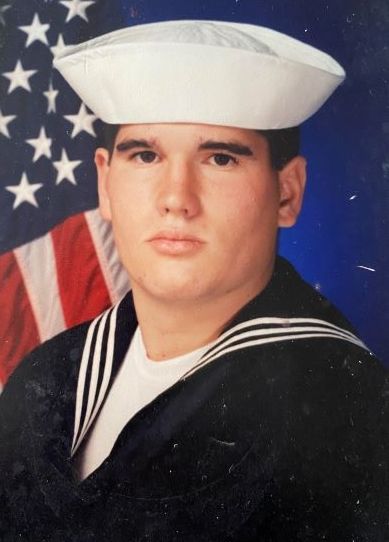 It is with great sadness that we announce the passing of Michael "Smoothie" Douglas Horton, 52, on March 29, 2022, in Cary, NC, following a long personal health battle.

Mike was a loyal and devoted son, brother, father, husband, uncle, and friend, who was never afraid to stand up and protect, assist, and defend people that needed help. A United States Navy Corpsman, Mike proudly served his country during Operation Desert Storm and afterwards as part of the Naval Reserve. He loved his country dearly, and never failed to answer his Country's call to serve, regardless of the deep personal cost.

A memorial service is scheduled for 7PM Tuesday, April 26 at Providence Baptist Church, 6339 Glenwood Avenue in Raleigh. The Rev. Jim Dyer, who knew Mike well, will lead the service, and will honor Mike, his family, his service to the Nation, and his Savior Jesus Christ. All are welcome.

Rather than spending money on flowers for the service, the family requests that you consider donating to Mike's 15-year-old son Caleb's education trust fund via the attached link:

https://gofund.me/42cb187b

All who knew Mike would know he wouldn't want any money wasted on frivolous things, but would want to protect and provide for Caleb's future, and that is the intent of this fundraiser.

The first-born son of Claude and Judi Horton, Mike was born March 21, 1970, in Hickory, NC. Mike and his younger brother Chris spent their early years in Hickory and then elementary years in Hueytown AL, where he developed a lifelong love of the Alabama Crimson Tide football team. His family moved to Cary, NC in 1982, where he spent his junior and high school years. A 1988 graduate of Cary High School, he was a member of the Cary High School State Champion Wrestling teams of 1987 and 1988. Mike was an Eagle Scout with Troop 204 in First Baptist Church of Cary, and he coordinated his Eagle project with the US Army Corps of Engineers, leading and managing a team that constructed a hiking trail and bridge at Jordan Lake.

Mike enrolled in East Carolina University where he began studying Nursing, and joined the Navy Reserve, where he was excited to be selected for Corpsman school. He planned to continue studying to graduate with his BSN, but his Naval Reserve unit was activated to support Operation Desert Storm, where he was awarded the National Defense Service Medal. Mike also worked as a phlebotomist and respiratory technician at Wake Med.

After his time in the Navy, Mike worked in the transportation and heavy construction fields, including experience as a cross-country long haul truck driver, owning and operating his own dump truck firm "Smooth Spreaders Trucking", and working with both the Cities of Apex and Durham, and local construction and transportation firms including Gregory Poole, C.C Mangum, Puryear Trucking, and Jones Brothers. Mike finished his career as a logistics manager at Sullivan Eastern Trucking.

He is survived by his loving and devoted parents, Claude and Judi Horton of Cary, his son Caleb of Apex, his brother Chris and wife Kristy of Raleigh, and their 4 children Alex, David, Ella, and Anna. He is also survived by his former spouse Alison Horton and son Austin, of Apex, and his uncle, Steve Stretch of Vermont.

Mike loved his family dearly, especially his son Caleb, and the two enjoyed the outdoors, fishing and camping with Boy Scouts, endless paintball competitions, going on cruises, and enjoying riding ATV's with Caleb and many friends. Mike was a volunteer leader with Caleb's Cub Scout Pack, helping lead the Pinewood Derby, as well as a volunteer coach for several of Caleb's youth sports teams. Over this past year, he especially loved watching and supporting Caleb playing football for Apex Friendship High School.

He spent many happy times with his loyal and close friend Craig Donley of Raleigh, and he also loved making trips back to Hickory, NC with lifelong close friends Jeff & Joel Ledford, where countless stories of good fun and amazing adventures were the norm. Mike was known for his love of BBQ cooking, over the top fireworks, and legendary bonfires. I'm sure he had a good laugh when multiple stashes of bottle rockets were found in his truck, house, and garage. Mike was always prepared for a good time.

Mike was known as a fierce and loyal friend to many, throughout different stages of his life: in his family, in school, in the military, in his church, and in his work relationships. Mike served as a member of Hope Community Church in Cary for many years, including working on the parking lot team for years, as well as driving the livery bus to pick up members who needed help and support to get to church. Mike also served on a Hope Chapel rebuilding mission trip after Hurricane Katrina, helping to support and rebuild devastated communities in Waveland, MS. In the local transportation, he developed many lifelong relationships with fellow drivers and workers, helping them grow their skills and careers in the field.

Mike never stopped fighting his long-term battles, and he will be forever loved, admired, and remembered for fighting strongly through the very end of his life. In fact, during one of Mike's visits to the Durham, NC VA Hospital, he saved a fellow Veteran patient's life while in the hospital, and was recognized with a commendation medal from the VA. Despite his own personal struggles, Mike never stopped caring, helping, or standing up and defending those in need.

Mike's life and legacy serves as a clear and resounding call for action to our Nation that we can, and must, do a fundamentally better job properly caring for and serving our Nation's veterans; all who served and sacrificed, and many who paid the ultimate price with their lives.

Many veterans suffer from invisible wounds such as long-term PTSD and related health challenges for the rest of their lives, long after they've taken off their uniform. When they join the military, our Veterans sign a deal to protect our country, with a check payable with their lives. That check can be cashed at any time for the rest of their lives, and far too often the bill comes due much later after their active service is completed.

For many veterans, invisible wounds such as PTSD manifest themselves into further demons of depression, substance abuse and mental illness. The suicide rate for Veteran adults is greater than double than the rate of non-veteran adults; although only 7% of adults are veterans, as a group they account for greater than 14% of all suicides. This is a national tragedy, and as a Nation we must do better to protect and care for those who protect our freedoms that Americans so cherish. When will enough be enough?

Mike, we all remember so many unique and special memories with you that included never ending days of so much fun, the times you would smile so big and laugh so loud. We will all miss your smile, your laugh, your love, and your unmistakable and irreplaceable presence in our lives. We love you forever, and we cherish our memories with you that cruelly ended all too soon, but we know we will see you again in Heaven, and we look forward to that day.

Please consider donating to support Caleb's future education needs via this link: https://gofund.me/42cb187b

Rest easy brother, we've got it from here.
For additional information or for service details, please reach out to the family directly.
You can share this obituary using the following address, or click the button below to share on Facebook.