Obituary
Ronald Lyle Richardson
Fuquay Varina NC, North Carolina
Age 85.
Died 09/14/2022.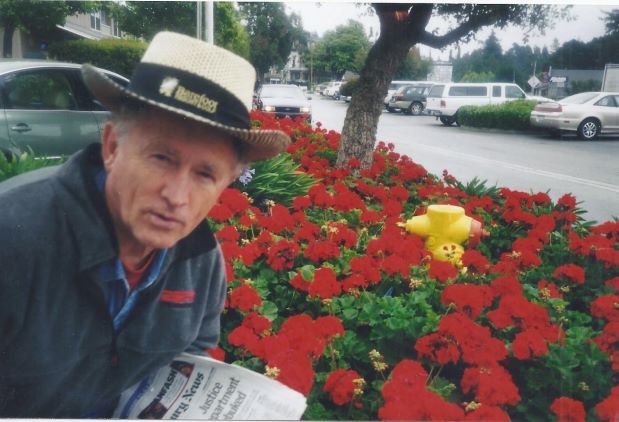 Ronald Lyle Richardson, 85, of Fuquay-Varina, North Carolina, died peacefully on September 14, 2022. He was attended by the gentle, caring staff of Serenity Falls Family Care Home on the morning of his passing.

He was preceded in death by his parents, Raymond and Amber Richardson. He is survived by his wife, Catherine. He is also survived by his daughters, Michelle Richardson (Thomas Munsey) and Carmen D'Aluisio (Chris), his stepchildren (whom he considered his own), Julie Sawyer-Little (Bobby Little), and Dave Sawyer (Rebecca). Additionally, he is survived by his grandchildren and great-grandchildren, Bobby Little, III, Barry Little (Danielle), Ethan & Clark Sawyer, Christopher & Katherine Little, Zachary & Connor Little, and Mikayla & Anna Little

He was born to parents Raymond Thomas Richardson and Amber Mae Richardson (Dowling) on February 23, 1937, in Boscobel, Wisconsin. He graduated from Boscobel High School in 1954 before attending the University of Wisconsin-La Crosse. While attending college, he met and married Deanna McCormick (Bixby). After graduation, they moved to Racine, Wisconsin, where Ron taught at Horlick High School and developed his passion for coaching. In 1965, they welcomed their first child, Michelle Marie, and in 1967 the family grew to four with the birth of Carmen Lea.

The family relocated to Eugene, Oregon, where Ron would continue his education as a doctoral candidate in physiology. In addition to his studies, Ron worked as a graduate assistant with the University of Oregon Track and Field team. This was during the legacy years of coaches Bill Bowerman and Bill Dellinger and athletes Steve Prefontaine, Mac Wilkins, and Wade Bell. Their influence helped create in Ron the desire to be more than just a coach but also a teacher, both on the athletic field and in life.

When the opportunity came, the family relocated to Knoxville, Tennessee, where Ron would join the coaching staff led by Stan Huntsman. While there, he helped lead the Volunteers to NCAA team championships in cross country (1972), outdoor track and field (1974), and numerous Southeastern Conference team titles. In 1976, Ron took his daughters to Montreal, Canada, to attend the 1976 Summer Olympic games. He was incredibly proud of the performance of Phil Olsen, a Canadian javelin thrower he had recruited and coached.
In 1976, Ron moved from Tennessee to Laramie, Wyoming, after accepting the head coaching position for cross country and track. Accompanying Ron on this journey was his daughter, Michelle, his soon-to-be wife, Catherine, and her children, Julie Sawyer and David Sawyer. His younger daughter, Carmen, joined the family in December. In 1977, Ron and Catherine traveled to Kenya on a recruiting trip. It was also a getaway from the rigors of combining two families and overcoming the culture shock of relocating from the southeast to the wild west. In August of 1977, Ron and Catherine married, formalizing a bond that would last through many challenges.

While at the University of Wyoming, Ron took an unknown team and developed a national-caliber cross country team. The Wyoming Cowboys finished third at the NCAA cross country championships in the fall of 1977. More importantly, Ron developed friendships with many of these athletes that would last for decades. He was always excited to share updates on the achievements of his athletes after they graduated and moved forward.

Always looking ahead to the next challenge, Ron relocated the family to Albuquerque, New Mexico, during the summer of 1980. Ron and Catherine opened the very successful Safari East video arcade, followed by The Safari, a dance club for the under 21s. Taking a break from collegiate coaching, Ron coached both of his daughters through successful high school athletic careers.

Collegiate coaching called again, and Ron, Catherine, and David left New Mexico for Chapel Hill, North Carolina, in the summer of 1985. Ron coached at the University of North Carolina for several years. From Chapel Hill, Ron and Catherine moved to Greensboro, NC, where Ron developed the cross-country program for UNC-Greensboro. This program is still going strong today. That was the end of Ron's "official" coaching career. However, I am sure he continued to coach every athlete he watched perform for the remainder of his life.

Retirement began with building a gorgeous home on the Intercoastal Waterway in North Myrtle Beach, South Carolina. Ron busied himself with adding personal touches and details that made the house a showplace. But it was the move to Fuquay-Varina, North Carolina, that allowed him to pursue his other great passion in life, gardening.

Ron left a trail of beautiful gardens from Wisconsin to Wyoming, from Oregon to New Mexico and North Carolina, enduring reminders of his passion for life. Gardeners are like coaches. They see the potential in the undeveloped. They coax the best from raw materials to create something lasting and beautiful.

The last time I visited my father at his home, we planted bulbs on a sunny November afternoon. He pointed, and I dug. That is the memory I will carry with me, my dad on his hands and knees in the dirt, creating something beautiful for the future.
Michelle M Richardson
September 18, 2022
Helena, MT

A celebration of life service will be held on Saturday, September 24, 2022, at Fuquay Varina United Methodist Church, 100 S. Judd Parkway Fuquay Varina, NC. Visitation will begin at 11:00 a.m. and the service will begin at 12:00 p.m. The service will be available online and a link will be provided later this week. Memorial donations can be made to FVUMC Bereavement Fund or Transitions Lifecare 250 Hospice Circle, Raleigh, NC 27607.
Link for Service:
http://fvumc.org/richardson
For additional information or for service details, please reach out to the family directly.
You can share this obituary using the following address, or click the button below to share on Facebook.