Obituary
Dr. Roger Hawley Crook
Cary, North Carolina
Age 101.
Died 12/02/2022.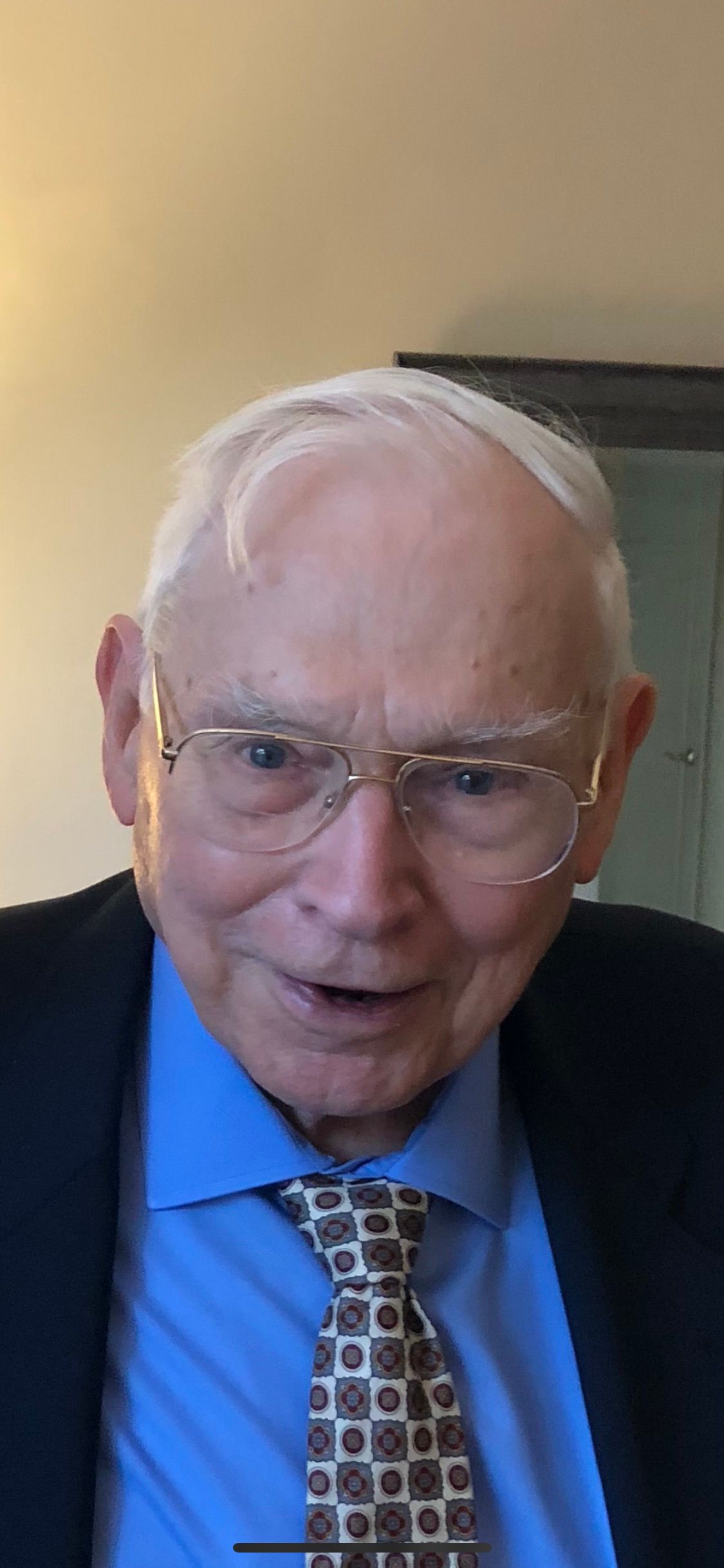 Roger Hawley Crook
October 5, 1921 - December 2, 2022


The gifts that he gave were that
some would be apostles,
some prophets, some evangelists,
some pastors and teachers.
-Ephesians 4:11

Dr. Roger Hawley Crook, born on October 5, 1921, near Concord, North Carolina, died on December 2, 2022. He was the son of William Murphy Crook and Mary Blanch Crook, and had three older brothers: Vernon, Elroy, and Harold. When his father William Crook died in 1939, the writer of his obituary characterized him as "….having the combined elements of a superior mentality and the spirit of humility that characterize all Christian gentlemen. As a teacher, he was a genius. He could hold in a smooth persuasive manner the attention of his boys when imparting to them the fundamentals of an education, and by his exemplary life inspire the highest ideals of correct living." Likewise lived Roger Crook.

Dr. Crook studied at Mars Hill Junior College and received the B.A. from Wake Forest College. He earned the Th.M and Th.D. in Christian Ethics from Southern Baptist Theological Seminary in Louisville, Kentucky.

In 1945, Dr. Crook wrote to P.K. Weaver, his future father-in-law, "Personally I feel that God must have some great work for me to do, because He has given me the love of this wonderful girl." Roger and Mary Ruth were married for 70 years, until her death in 2015. From the time they met, there can be nothing said about one without including the other.

Dr. Crook taught Sociology at Limestone College in Gaffney, S.C., for two years, moved to Raleigh in 1949 and joined the faculty of the Department of Religion at Meredith College, and the congregation of Pullen Memorial Baptist Church. He retired from Meredith in 1987. Throughout his life, Dr. Crook was a pastor and teacher, serving many congregations throughout Kentucky, North Carolina and South Carolina.

Dr. Crook established the Study Abroad Program at Meredith College in 1974, thereby broadening the perspective of many students and faculty, building relationships, and bringing the world closer together. In the following years, Roger and Mary Ruth traveled extensively throughout the Americas, the United Kingdom, and Eastern and Western Europe, often away months at a time, and all the while teaching, learning, and sharing. And while at home, he and his family opened their doors to anyone who appeared on their doorstep: the lonely and destitute, students from home and abroad, friends and colleagues, and they all became part of his family.

In 1984 Roger and Mary Ruth participated in establishing the Baptist Peace Fellowship of North America, which seeks to gather, equip and mobilize peacemakers of faith across North America and beyond to engage in the work of peace rooted in justice. Particularly noteworthy during this time were their efforts to establish positive relationships with the citizens of Matanzas, Cuba, and Tbilisi, in the Republic of Georgia, where they formed strong and lasting friendships.

In so many ways, his life was exceptional. Dr. Crook is remembered for his works on Christian Ethics, Civil Rights, and the struggles of modern families. He and Mary Ruth have been both nationally and internationally recognized for a lifetime of peace and justice work and for being spokespersons for inclusion and equality. The quest for wholeness and the struggle for social justice continues to be nourished by the writings and records he left behind.

It has been said that the most important thing a father can do for his children is to love their mother. Among the legacies of Roger and Mary Ruth Crook are six sons and daughters-in-law, David and Kaye of Hartsville SC, Joseph and Laura of Cary, John and Connie of Cary, James and Kim of Raleigh, Bryan and Donna of Cary, Stephen (Kathy-deceased) of Raleigh, longtime Crook family friend Renee Keever, nine grandchildren, 13 great grandchildren, and countless others around the world whose lives they touched and loved and made better.

A worship service in honor of Roger Crook will be held at Pullen Memorial Baptist Church in Raleigh, N.C. on December 18, 2022, at 2:00 pm, with a reception following. In lieu of flowers, gifts to recognize and honor his life may be made to Pullen Memorial Baptist Church, specified for the Crook Peace Center-Republic of Georgia, or The Baptist Peace Fellowship of North America.
For additional information or for service details, please reach out to the family directly.
You can share this obituary using the following address, or click the button below to share on Facebook.