Obituary
Shanta Rajagopalan
RALEIGH, North Carolina
Age 83.
Died 05/10/2023.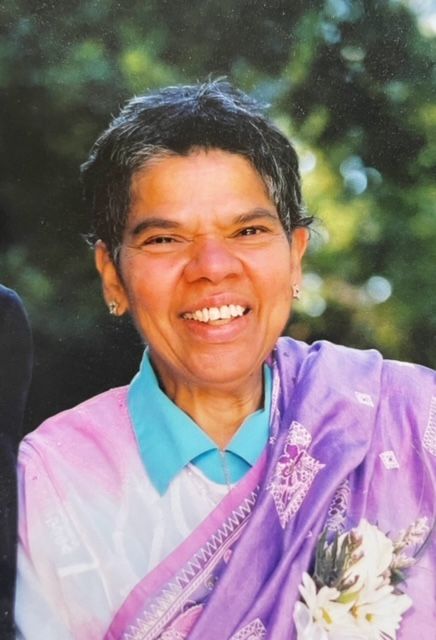 Shanta (Rao) Rajagopalan, 83, of Durham North Carolina died peacefully on May 10, 2023 at Abbottswood at Stonehenge in Raleigh. Shanta was born the second of four children in Madras (now Chennai), India on August 4, 1939. She married Koluvail Vayasara Rajagopalan in January, 1958. She is survived by her husband of 65 years, "Raj", sons Shrin of Raleigh (husband to Anne) and Pradeep of Charlottesville (husband to Emily), grandchildren Nina of Philadelphia, Sheila of Atlanta, Monika of Durham, Grady and Tilda of Charlottesville, and younger brothers Chandrasekhar of Parsippany, and Ramesh of Chennai, India. Shanta was predeceased by her parents, her older sister Jayalakshmi, and her middle son, Umesh. The City of Oaks Crematorium is handling arrangements. A memorial service will be planned for a later date. In lieu of flowers, the family asks that you consider donations to Transitions LifeCare, 250 Hospice Circle, Raleigh NC 27607.

Shanta followed Raj to the United States in September 1959, barely out of her teens, with an infant son in tow. She was truly a stranger in a strange land, but Durham embraced the rare new Indian family. Shanta was invited to dance and sing on local television, where she delighted the audience with her beautiful singing voice. She learned English by watching soap operas. Eventually, she became a US Citizen. She was noted for her delicious Indian food, especially her birthday gulab jamun, upitu, lime rice, and samosas. As well, her grandchildren loved her M&M and peanut butter cookies.

Shanta loved dressing up in saris, pink nail polish, magnolia and iris blossoms, pistachio ice cream, sprinkles on cupcakes, eggplant Parmesan, iCarly, The Bold and the Beautiful, Lynette Jennings, and being Ajji to her grandchildren. She was convinced they all looked like Bollywood movie stars and were musical geniuses. Shanta spoke five languages fluently: Tulu, Tamil, Kannada, Telegu, and English. She rose early with the birds, and went to bed early as well. Most of all, Shanta loved her adopted country, and took pride in the warm home that she provided for her beloved family.
For additional information or for service details, please reach out to the family directly.
You can share this obituary using the following address, or click the button below to share on Facebook.