Obituary
Irene Olive Kittinger
Cary, North Carolina
Age 98.
Died 09/15/2023.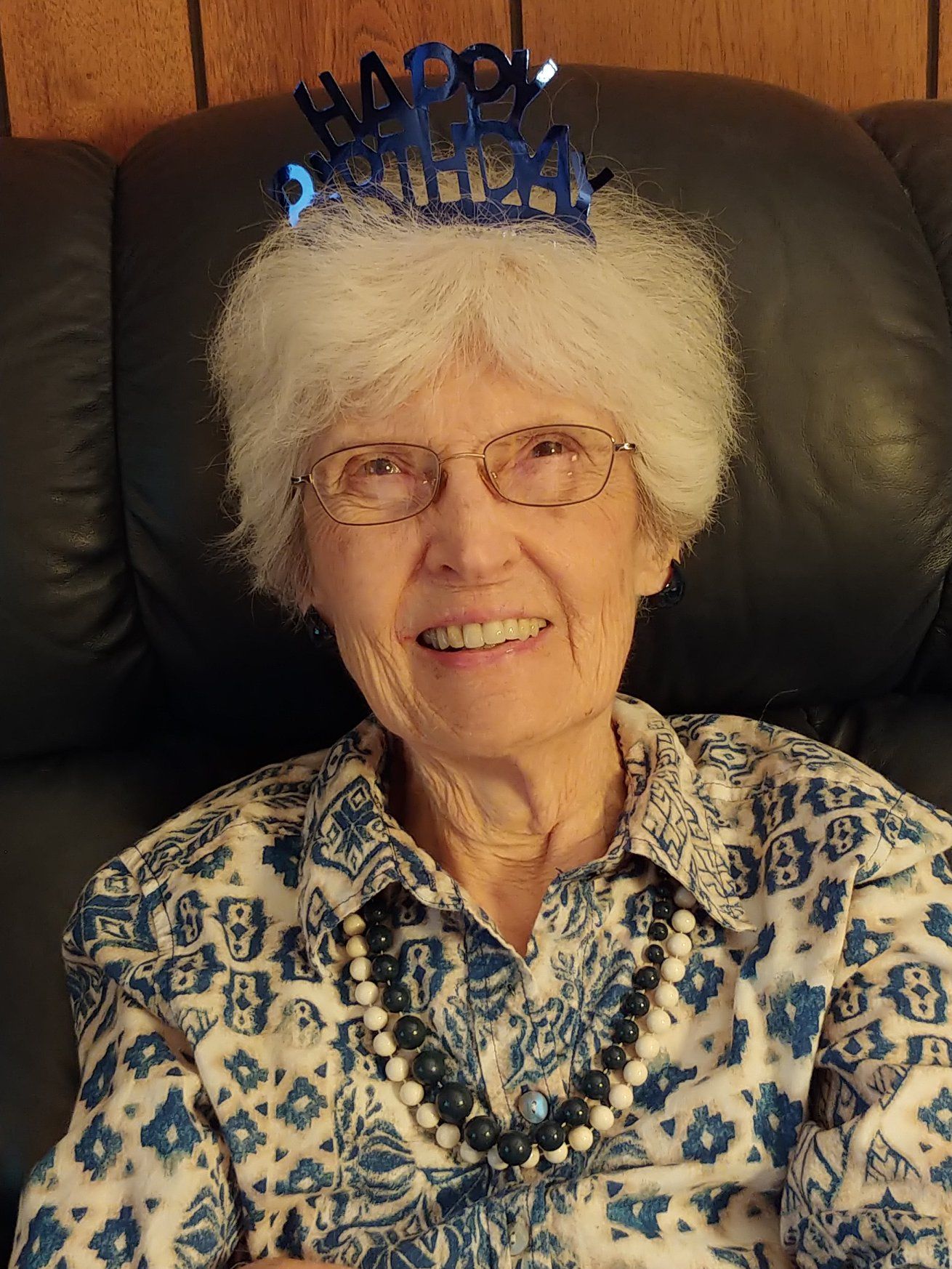 Irene McMillan Olive Kittinger, initials IMOK, age 98, died peacefully at home late on September 14, 2023, after several months of steady decline.

Irene was born and raised on a dairy farm in Southern Pines, NC to loving parents, Mae and Walter Olive. She was preceded in death by her parents, sister Jean, niece Cheryl, and nephew-in-law Chuck. She is survived by her husband of almost 63 years, Kit, and her daughter, Celeste. She also leaves behind her sister-in-law, Jessica Falkos, her nephews, Thomas (Toni), Danny, Steve, Ranny (Cheryl), Rick (Jo), Ron, and Kevin, as well as her nieces, Lori and Gerry (Carlton). Many grandnieces, grandnephews, great-grandnieces, and great-grandnephews survive her also. Irene will be dearly missed by her immediate family and cousins, as well as her neighbors and friends.

As a teen, Irene attended Southern Pines High School from which she graduated in 1942. Her class had the option of taking a twelfth year of high school which she completed in 1943. She continued her education, majoring in religion at Meredith College in Raleigh, NC and graduated in 1947. Irene earned a Master of Religious Education at Woman's Missionary Union Training School (associated with Southern Baptist Theological Seminary) in 1950 in Louisville, KY where she was influenced by one of her favorite professors at the seminary, Dr. Wayne Oates.

Irene worked in many churches across the southeastern United States during the 1950s. She was proud to have worked for senior pastor Dr. G. Avery Lee at First Baptist Church of Ruston, LA, and Dr. Bob Seymore Jr. at Mars Hill Baptist Church. However, it was during the time she worked at First Baptist Church of Salem, VA that she met future husband, Kit, through a mutual friend. He sold her an insurance policy and was impressed that she paid for it with an annual premium (however, he likes to say that he has been paying the bills ever since!) Kit and Irene married in 1960, and lived in Alexandria, LA; Charlotte, NC; Baton Rouge, LA; Tampa, FL; and Cary, NC. In Charlotte, NC, Irene welcomed the birth of their daughter, Celeste.

In Charlotte, Irene became involved with the Mecklenburg Audubon Society and served as its president when it became the first official North Carolina chapter in 1970. To celebrate the first Earth Day in 1970, she contacted local teachers to make them aware of the special day to highlight ways to protect the environment. She greatly enjoyed going birdwatching with friends during this time. Also, in Charlotte she and Kit joined St. John's Baptist Church where they attended regularly and enjoyed fellowship with their church family.

In Baton Rouge, Irene discovered genealogy, a passion that endured for the rest of her life. She took continuing education classes through Louisiana State University to learn how to conduct family research. Irene loved anything related to family history. Nearly anywhere she went she would ask strangers where they were from, and she would often figure out that they were distant cousins. For years, she wrote family newsletters for both the Olive family and the Kittinger family, updating everyone on births, deaths, accomplishments, and family reunions. And, oh, the family reunions . . . she helped to organize many national family reunions for both sides of the family. One of her greatest joys was finding people who had no idea they belonged in the Olive family and welcoming them into the large extended family!

In 1975, Irene was excited to move to Cary, NC where she would be close to her parents in Southern Pines, cousins in Apex and the State Archives of North Carolina in Raleigh so she could do more family research. She became involved with the Wake County Cemetery Survey soon after moving to Cary, and in 1978, became the coordinator for the project. In Fall 2022, she received a certificate of appreciation from the North Carolina Genealogical Society for her original work on the survey. Irene was extremely active in the Cary Historical Society, organized in 1974, and was a founding member of The Friends of the Page-Walker Hotel in Cary. The Cary Historical Society created Friends in 1985 to save the 1868 Walker Hotel. Irene was a charter and Organizing member of the Asbury Station Chapter of the Daughters of the American Revolution, and she served four 2-year terms as Vice-Regent, as well as being a very active member. In 2001 she became the winner of an Anthemion Award from Capital Area Preservation for preservation advocacy. Irene was a phenomenal historian particularly in the field of cemeteries in Wake County. She loved all things history and sometimes would lament that she wished she had majored in history rather than religion when she was at Meredith College.

Through her work with family history and other projects, Irene demonstrated that connectedness between people was very important because it gave people a sense of belonging. She was loquacious to say the least and, occasionally, was quite capable of driving people nuts with all of her talking. In recent years, Irene worried a lot about all the things she needed to finish. Two days before she died, as Irene struggled with weakness and extreme sleepiness, her daughter Celeste asked her if she thought this was her body saying it was just worn out. Irene snapped back, "I hope not!" Although her life was not always an easy one, it was a good one, and she did not want to let it go. We will cherish our memories of Irene and all the connections she made for herself and for others through her life's good work.

"Do not be daunted by the enormity of the world's grief. Do justly now, love mercy now, walk humbly now. You are not obligated to complete the work, but neither are you free to abandon it." – The Talmud

For additional information or for service details, please reach out to the family directly.
For additional information or for service details, please reach out to the family directly.
You can share this obituary using the following address, or click the button below to share on Facebook.