Obituary
Christopher J. Brancke
Raleigh, North Carolina
Age 54.
Died 01/15/2023.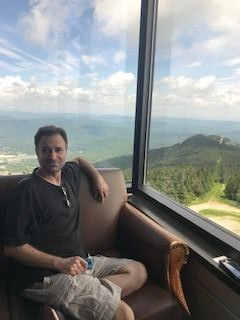 Chris passed away peacefully on January 15th surrounded by his loving family.

Christopher J Brancke, was a loving father to his three daughters, Daniella, Nicole, and Melissa. Married to his wife of 20 years, Katherine Brancke. Everyone who has the pleasure of coming to know Chris was impressed at how smart, talented, kind, and funny he was. He was very tech savvy, he spent his time inventing items, coming up with cool solutions to fix everyday inconveniences. He loved nature, and frequent trips to the mountains were a must for him to immerse himself in the beautiful scenery of the Blue Ridge mountains with his family. Chris picked up the guitar at an early age and loved to play music with his family. Music came like second nature to Chris and he could always be found playing riffs on the guitar or trying out different instruments . His daughters would love joining him in having a jam session blasting songs. People knew him for always having a joke to tell when he spoke. He loved to strike up conversations with others. He had a real value for the Bible and loved reading it and studying Bible history with his family. He had full faith in the resurrection hope that the bible prophesies.
Christopher was constantly surrounded by his wife, daughters and close friends during the final week of his life, and passed away January, 15, 2023.
Until we see you again.
Isaiah 26:19 Psalm 37:29 Acts 24:15.
He is predeceased by his former wife Lori Greenbaum Brancke, mother Donna Brancke, his brother Kevin Brancke, nephew Jared Evans.


Memorial Services will be held on Sunday February 19, 2023, 7:00 PM at the Kingdom Hall of Jehovah's Witnesses.
8800 Honeycutt Rd.
Raleigh NC 27615
For additional information or for service details, please reach out to the family directly.
You can share this obituary using the following address, or click the button below to share on Facebook.