Obituary
Christopher John Peck
Angier, North Carolina
Age 38.
Died 03/19/2022.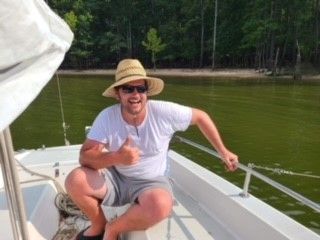 Christopher John Peck of Angier, North Carolina, age 38 unexpectedly passed away on March 19, 2022.

Chris was born in Riverside, California on December 13th of 1983.

After dating for three years, Chris married the love of his life and first mate, Lianne Elise (Ferdon) Peck of Fullerton, California on June 15th of 2007.

Chris was a beloved husband and a devoted father to his four sons and daughter.

He was a true renaissance man, who had wide interests, was an expert in several areas, and thrived at creating and "building something from nothing." He loved all things "adventure!" As a couple, Lianne and Chris loved to camp, hike, and ride roller coasters. In recent years, they shared these adventures with their children. Chris had a lifelong love of sailing, and recently bought a sail boat to create unforgettable memories with his family. Pursuing his love for sailing, he was a sailing coach in nautical camps. Because of his deep love for his sons, as an active member of Cross Assembly he volunteered with the Royal Rangers as a Commander.

Chris is survived by his beloved wife, Lianne Elise Peck and children; Josiah (14), Malachi (12), Kaleb (8), and Levi (4); and his daughter, Charis (1), father, David Bradley Peck (Kristian Peck) of Seattle, mother, Maria Cristina Ruiz-Palmer (James Palmer) of Pittsboro NC, brother, William Harbert (Erika Harbert) of Cary NC, sister, Ana Lyn Aason (Alex Aason) of Graham NC, sister, Allison Palmer of Pittsboro NC, and several nieces and nephews.

The Celebration of Life services will be held at Cross Assembly Church: 2660 Yonkers Road Raleigh, NC 27604, on Friday, March 25, 2022. The Peck Family will accept visitation beginning at 10:30-11:30 AM. Memorial Service will begin at 12:00-1:00 PM.

In lieu of flowers, memorial donations may be made to his wife and children. In this regard, Cross Assembly Church will be accepting these donations. Please mark the donations as "BENEVOLENCE" ONLY to ensure privacy and for the correct allocation of funds. For online gifts : https://app.easytithe.com/app/Giving/crossassembly/CROSSASSEMBLY.

After the end of the month, please give donations directly to the Peck Family.

The family is grateful for the support provided and thanks you for your expressions of sympathy, kindness, prayers, and thoughts at this difficult time.
For additional information or for service details, please reach out to the family directly.
You can share this obituary using the following address, or click the button below to share on Facebook.